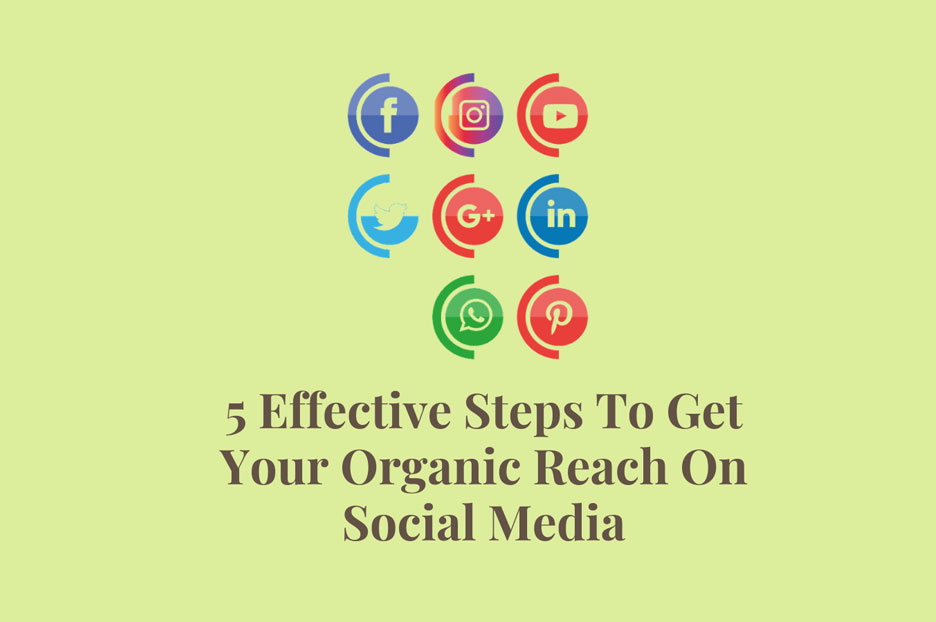 Are you struggling to reach your potential audience on social media platforms? Has your Facebook organic reach declined? Are you worried about spending too much on ads because your posts are not reaching your audience?
Then you are not alone here. Marketers and business owners from all over the world are scratching their heads over the last few years and want to know how to increase the organic reach on social media platforms.
Did you know: Facebook shows your post to only 10% of the people who have liked your page.
Getting the ideal audience and encouraging them to view your posts is challenging. It???s always not possible for business owners to spend dollars on marketing on social media. That is why it is important to boost your organic reach.
Due to various reasons your organic reach and engagement might drop. One such reason is the algorithm change by social media companies. Another such reason can be your fans not engaging with your post.
Here we are going to discuss the five best tactics on how to increase your organic reach on Facebook or other social media platforms. Without further ado, let???s get started.
1. Choose the Right Platform
To increase your organic reach, it is important to choose the right platform. Most of the time businesses choose the wrong platform and fail to get the satisfactory results that they are looking for.
Before choosing any platform, target your right audience, think where you can find them. It is not necessary that your audience will be present on all platforms. So think and decide which social media platform will be worthy for you and put your best efforts to find your potential customer.
There are some best possible ways that you can apply to get accurate information about your audience-
Add a share button to your blog site to track your viewers and check the platforms they are using to share your content.
Keep an eye on your competitors to figure out which platforms you need to focus on.
Do a survey or call to your customers and ask them indirectly about the platforms they are using for their personal and business purposes.
2. Learn About Algorithms
The second most important factor that you need to know is the algorithm and how this works. There are three basic principles on which the social platform algorithms depend on – Recency, Relevancy, and Engagement.
Recency signifies at what time you have published your post, relevancy means whether you post is relevant to your audience, and engagement indicates whether your post is liked or shared by your audience or not.
Though there are other factors that you might need to look at, but, these three basic things are common for all social media networks. So put your best efforts to learn them so that you can create your content and play with each element in order to turn them into your favor.
3. Improve Visibility & Optimize Your Social Media Profile
If you want to reach your potential customers, it is important for you to focus on better visibility and optimization of your social media profile. You need to follow the current trends to become a social media rockstar. Make sure you choose the right image, create a recognizable brand logo, use proper keywords, properly phrase your call to action, produce valuable content, and add a trackable link for visiting your website to get maximum results.
4. Publish High-Quality Content & Video
To target your valuable audience and turn them into your potential customers, creating high-quality content is a must. Try to produce simple, understandable, and engaging content and videos that attract consumers and help you to achieve a higher organic reach. All your content should connect to the consumers and their problems, queries, emotions. Add different elements, humor, a shock to your content to make them evergreen and try to leave a lasting impact on your audience.
5. Choose Non-Peak Hours to Publish Your Content
Publishing content when everyone is online does not mean there is a high chance to get your potential readers. Instead, if you post and send your content at slow hours, chances are high actually taking notice of it. So, be selective about the time to share your post on social media platforms to get it noticed by more audiences. You can also follow the platforms to choose the best time to find your potential viewers.
Wrapping Up
To boost your organic reach on social media, you need to work smarter and not harder. Posting more is not the solution, rather you need to focus on creating more valuable content that is relevant to your audience and can relate to their pain point. Always remember ???Quality wins over Quantity???.
Every business is unique and has its own set of goals. You need to focus more on finding creative and innovative ways to interact with and engage your followers. If you want to improve your organic social media reach, improve social media optimization, deliver the best user experience, produce high-quality content.
So, connect with one of the best digital marketing agencies providing services in the USA. and get effective social media marketing strategies to reach your ideal customers on the world???s largest professional networks.