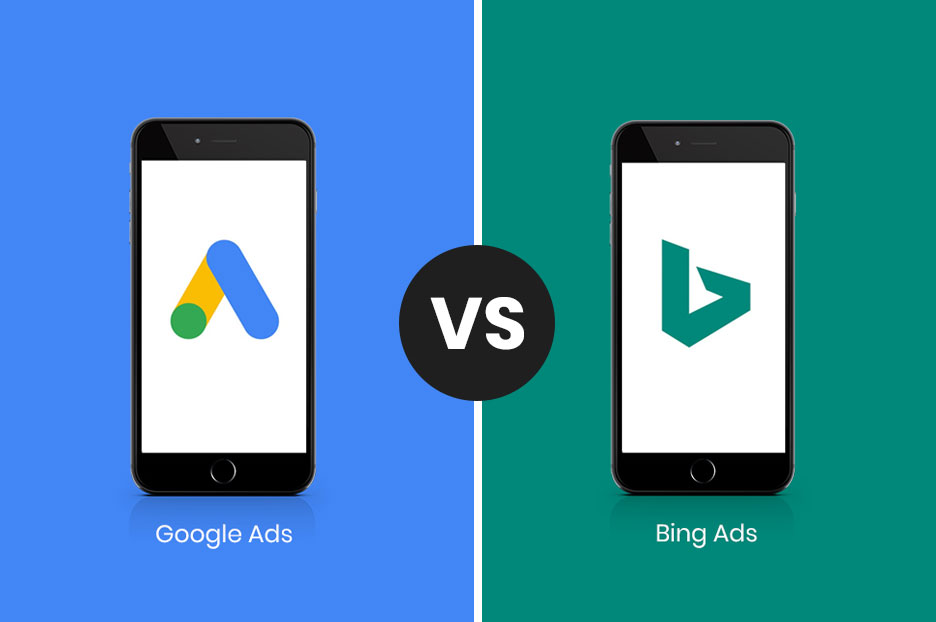 a) How to identify the best ad platform for PPC advertising?
b) Which platform can extend your reach?
c) Which one can improve engagement and conversion rates?
While Google and Bing both have distinct advantages but many PPC advertisers still struggle to decide and choose a platform between these two to promote their brand online. When it comes to selecting a platform for advertising or running campaigns, there are a lot of factors you need to consider such as cost, network, quality traffic, reach, conversion rates, and more.
Today in this article, we are going to discuss the difference between Bing ads and Google Adwords and which platform you can use to get more benefits to increase brand awareness.
Let???s get started.
Google Ads
There are two advertising networks included in Google Ads- Search Network and the Display Network. For Search Network, text ads are created, appearing on SERPs and the second one is Display Network that covers display ads made to appear on the various websites across the internet.
Bing Ads
On the other hand, Microsoft is the owner of the Bing search engine. Microsoft is also the owner of two other search engines -Yahoo and AOL. When you create an ad for a particular platform, it will show on all three search engines.
This means marketers can showcase their advertisements to users on various partner sites.
Differences Between Google Ads and Bing Ads
Both Google ads and Bing ads are platforms designed with the same concept. Both are popular platforms and allow marketers to run successful ad campaigns to drive more traffic and sales for their business. These also help them in increasing conversions and fulfill their business-specific goals.
Then, how are they different?
Well, if you closely look at the features, you can find some major differences between them.
Tools
Both of these platforms allow marketers to use keyword research tools in order to boost the performance of their campaigns. Like the Keyword Planner tool- it is a popular tool of Google that marketers use to research keywords and search volume as well as stay up to date with the latest trends. Similarly, Bing offers keyword research tools for users but comparatively, these are not as advanced as Google???s.
Cost
You can find critical differences while comparing price Bing with Google ads. As we know Google has been dominating the ad markets for decades. On the other hand, Bing ads were introduced in 2006. So, there is less chance of competition for Bing ads. That is why the price of Google ads is much higher than in Bing ads.
Network
As statistics reveal- Google has 92.95% market share of the worldwide search engine market while Bing only has 2.32%.
More than a hundred million visitors search in Google to find significant information every single day. This means being the largest search engine, Google can help you to drive more traffic than Bing. Google also runs a program called AdSense where marketers can show relevant and engaging ads to attract site visitors.
Like Google, Bing has a Syndicated partner network that marketers can use to advertise on. But it is not a bigger network like Google has. Even compared to Bing, Google has a higher market share that indicates it can offer you more reach and traffic.
Quality of Traffic
Both Google and Bing claim to provide relevant clicks and traffics for marketers. Both these platforms state, they use an anti-fraud system to identify fraudsters to ensure you get legitimate clicks to make every campaign successful. They also offer a refund request form to their customers to request a refund for fraudulent clicks. But when it comes to getting quality traffic, Google ads are more powerful than Bing as it is the largest paid search network.
Ad Restrictions
Both Google and Bing have different ad restrictions. But Google is more strict with its ad restrictions than Bing. When it comes to affiliate marketing, marketers are not allowed to display such ads on Google. Both have a list of restricted policies for ads and you can find a few similarities between them but Bing is more relaxed with its ad limitations. So, if you find it hard to advertise on Google, Bing can be a good option.
Types of Advertising
Google allows marketers to run a wide range of ad campaigns to earn more profit and revenue. Even it releases new types of ads that are captivating and engaging. One such example is Call-only ads. This type of ad is specifically designed for mobile devices that allows users to click a call button to start a direct call. While you will not be able to run such ad campaigns with Bing. For now, you can stay one step ahead with Google ads.
Google Ads or Bing Ads: Which Ad Platform Should You Choose?
Both Google and Bing are designed to help businesses to fulfill their marketing goals. Both these platforms are undoubtedly powerful and can work the best hand in hand. On one hand, Google ad offers a large search volume, higher traffic, multiple choices of ad campaigns, in the other Bing ad increases engagement, improves conversion rates, offers limited ad restrictions, and greater transparency to successfully run ad campaigns. Moreover, Bing has less bidding competition and a lower cost-per-click. So, the decision will be totally up to you on which platform you want to use to accelerate your business performance.