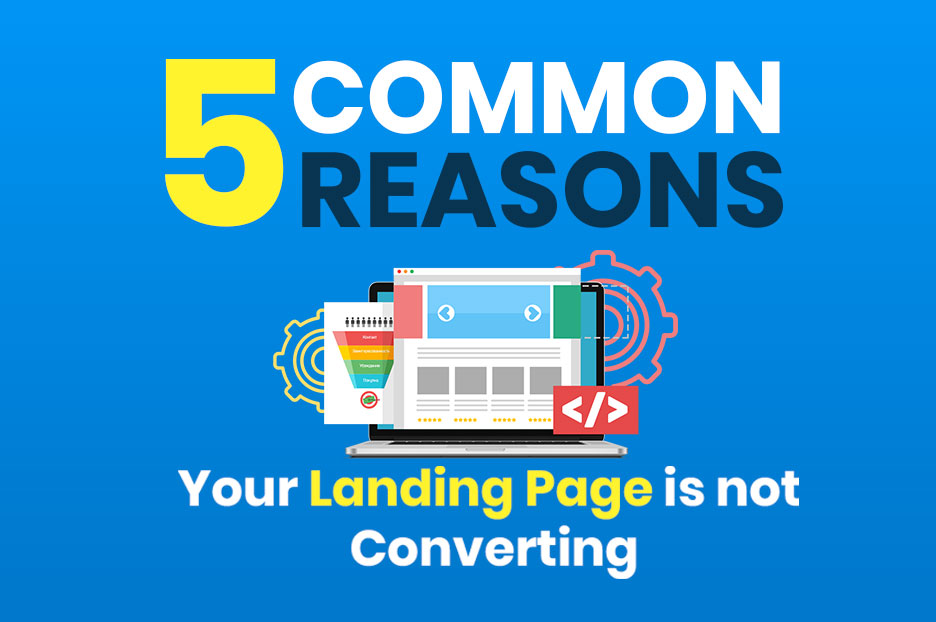 Across industries, the average landing page conversion rate falls around 2.35%. The top 25% of sites are converting at 5.31% and above, while the top 10% are looking at 11.45% and above.
What is your landing page???s conversion rate? Is it enough or you want to improve it?
If you want to increase conversion rates, first, you should know why a landing page is important. A landing page is a page on your site specially created for promoting your products and services to drive more leads and get more sales. It helps you to target your audience and increases conversion rates.
But due to various reasons, your landing page might not work. What are the reasons that your landing page is not converting?
Today on this page, we are going to discuss five common causes that help you to understand why your page is not converting and how to increase landing page conversion. So, let???s follow the article.
1. Customer Relations are not Built on Trust
Creating a landing page will not be enough. It should be designed to convert traffic. But have you ever thought about why people should visit your site? Most of the time marketers create their landing page with various conversion actions or elements like adding a lead capture form, Call to action button, etc. but do not want to focus on building a connection or trust with the visitors, as a result, their page does not convert. So, if you want to get benefited from your landing page, add trusted testimonials, reviews on your page to build the trust of your visitors.
2.You Don???t Understand Your Customer
As a business owner, your customers should be your first priority. If you don???t understand your customer well as well as their pain points, demands, your landing page might suffer. So if you want to increase the conversion rate of your landing page, it is important to know your customers better and try to endue what they want.
3. More Stuff on a Page
The concept of ???less is more??? is applicable when you create your landing page. Simplicity has its own value. If you think putting in more stuff will improve your landing page performance, you are wrong. Instead, the more you make it simple, the easier it will be for a visitor to understand your page. If your landing page serves a good user experience, it can drive more traffic and more conversions.
4. Not Testing Your Landing Page
This is another reason why your landing page is not converting. It is important to understand what???s working on your landing page by conducting A/B testing. This process will help you to figure out what version of a landing page will give you the best result, how to reduce the bounce rate, what elements work well together to increase leads and conversion rates, etc.
5.You are not Focusing on Offers
Your landing page should show the benefits to your visitors. If you want to draw people to your landing page, it is important to put an offer that makes them interested to buy your items right away. Giving your customers great offers helps you to increase their loyalty, gain more new customers, and improve your conversion rates.
Creating a high-converting landing page will help you to gain your ideal customers. So, make sure your page gives everything that they want. Based on your needs, you have to create your landing page with the right elements and a sales pitch that converts and helps you to achieve your goals. In addition, if you do not know how to create a landing page, it is always recommended to choose the best landing page builder to design an effective page to achieve your long-term conversion rate goals.